Badvert of the month: Hurtigruten
Often advertised with imagery of pristine natural habitats and beautiful oceans, cruise ships are in fact well known to be some of the world's largest polluters, going as far as outpacing flying in terms of carbon emissions per passenger.
Even the most efficient cruise ships emit more than three times the CO2 (around 250g CO2) per passenger per km than flying (average of 80g CO2). Besides their contribution to climate change, cruises drive localised pollution by pumping out vast amounts of sulphur, nitrous oxides, and particulate matter (PM) which all have detrimental effects for human health, including respiratory diseases, and the local environment (acid rain, habitat destruction).
These pollutants, and the noise pollution generated by cruise ships, disrupt and harm marine wildlife and ecosystems, including in fragile habitats such as coral reefs or arctic regions. Cruise ships can also spread viruses, generate huge amounts of chemical pollutants and hazardous waste, and often use a particularly heavy marine diesel oil that can leak and contaminate ocean water.
These heavily advertised sea giants are also eating up a growing share of the global tourism market, with an estimated 11 per cent growth per year forecasted up to 2028. Larger, taller and heavier ships are being built with ever-greater capacity: the biggest ship in circulation carries around 9,300 passengers including crew members. Bigger ships means bigger impacts. Yet the way in which these companies promote these trips in their advertising goes on unchallenged, despite the increased intensity of climate change and nature impacts across the globe.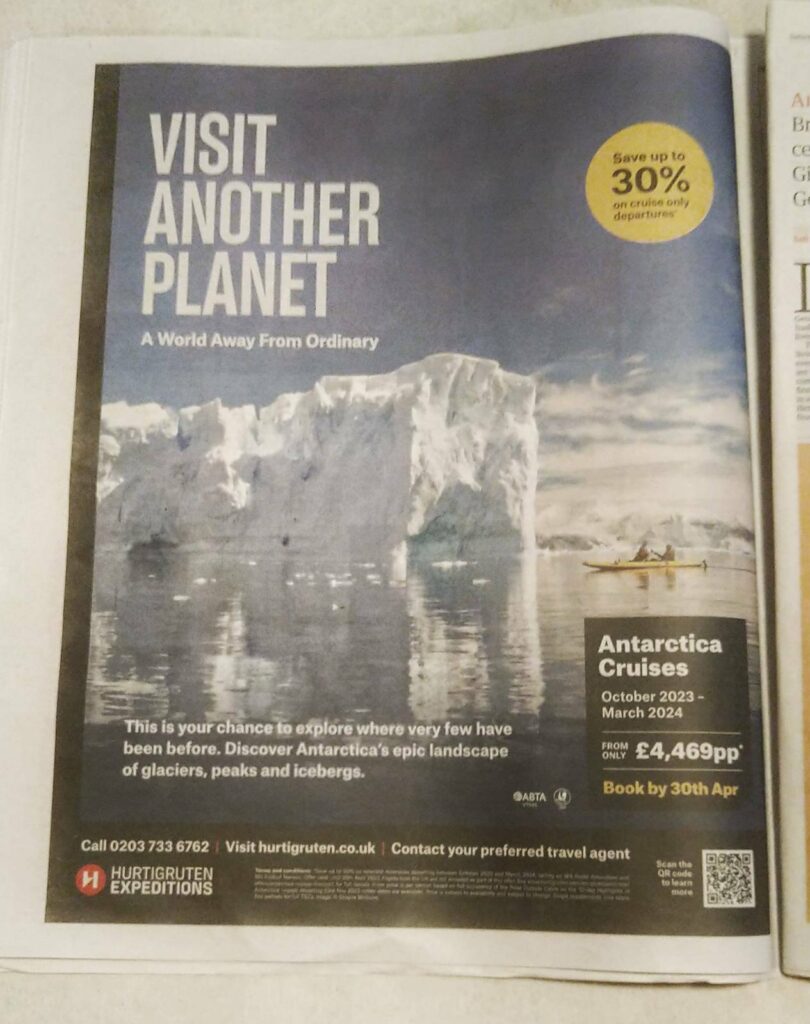 Oceans apart
Cruises are brilliant illustrations on how dysfunctional our economic model is, giving free rein to the world's largest polluters to promote their climate-destroying vessels, relying on images of untouched nature and pristine environments in their advertising, while simultaneously participating in their active destruction. This advert by Hurtigruten expeditions clearly depicts how luxury cruise companies, in a similar vein to auto industry advertising tactics, rely on images of wilderness and natural landscapes, with the underlying message that these environments are devoid of human presence, to shape and appeal to its customer base.
"Visit another planet" "A World Away from Ordinary"
"This is your chance to explore where very few have been before. Discover Antarctica's epic landscape of glaciers, peaks and icebergs."
The reality is that these cruise expeditions cause great harm to the natural ecosystems they visit along the way. Indeed, analysis by Transport & Environment found that one of the world's largest cruise operators, Carnival, was responsible for emitting more sulphur oxides along Europe's coastline in 2017 than all of the continent's 260 million cars. Cruise ships also cause direct damage to ecosystems and marine life; in 2017, British cruise ship MS Caledonian Sky ran aground onto Indonesia's pristine Raja Ampat coral reefs, destroying 13,000 square metres of reefs and causing immense, irreparable damage.
Despite luring customers with their all-inclusive packages and exclusive deals, holiday cruises are not catered for small economic budgets. While some of the cheaper offers range around £480 per person (pp), prices go as far as £6,000 pp for the most luxurious ones. This type of tourism actively encourages pollution and supports one of the most harmful forms of mass tourism, wrecking both the planet and the local communities it visits.
Read our Emerging Issues briefing to find out more
Riding the greenwashing wave
Cruise operators are no strangers to using greenwashing tactics. In fact, these companies are acutely aware that appealing to their customers' green consciousness is essential for the longevity and growth of their business model. A study by Cruise Critic Data found that environmentally-friendly policies and protocols were a concern for 77% of respondents, while a third said that they were increasingly aware of cruises' sustainability initiatives. The legal charity Opportunity Green recently released an investigation into cruise ships' promotion of liquified natural gas (LNG) as a "clean fuel". They found dozens of promotional messages, ranging from companies' brochures to social media posts and website pages, conflating LNG with the clean energy transition.
This could not be further from the truth: LNG is a fossil gas which consists primarily of methane, a potent greenhouse gas with 80 per cent more radiation potential than CO2 over a 20-year lifecycle. As Opportunity Green reports, greater reliance on LNG by the global shipping industry has contributed to drive up methane emissions by 150 per cent between 2012 and 2018. Meanwhile, methane emissions from cruise ships went up fivefold between 2019 and 2022. The International Energy Agency (IEA) recently reported that to keep the 1.5°C target alive, methane emissions must be cut by 75% by 2050.
The cruise industry continues to push false green narratives, exempt from any financial or legal consequences, while profiting from a surge in passenger sales. Following their study, Opportunity Green filed a series of complaints to the UK advertising watchdog flagging the issue and asking for the removals of these greenwashing messages.
Besides the problem this poses for advertising regulation and consumer protection, it is another prime example of why an outright ban on high-carbon companies, like cruise operators, is necessary to stop their reckless and highly misleading self-promotion which actively threatens the meeting of safe climate reduction targets.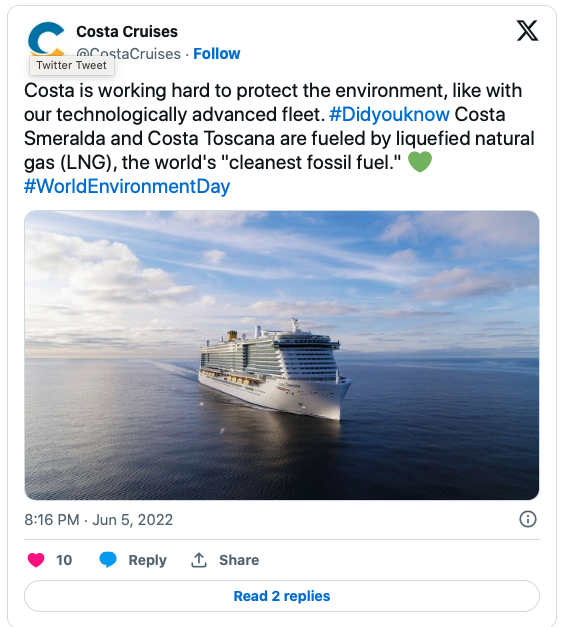 Company background: Hurtigruten expeditions
Hurtigruten AS is a Norwegian based company, headquartered in Oslo, offering both coastal ferry and cruise line services. The company takes its name after the 19th Century old ferry service (Hurtigruten means literally "fast route" in Norwegian) that initially connected Bergen to Kirkenes in Norway which was then a busy transportation route for goods and people. The company grew steadily over the years and became Hurtigruten Group ASA in 2006, from the merger of two previous operators of the Hurtigruten service.
In October 2014, the British private equity firm TDR Capital became the major owner of Hurtigruten ASA. The group offers cruises, among others, to destinations like Antarctica, Argentina, the Falkland and Canary Islands and Iceland.
OCTOBER 4, 2023