'Super' tax break for the company sucking life from high streets
The Chancellor's recent 'New Towns' deal – £1bn for 45 towns (of which 40 just happen to be in Tory constituencies) is welcome. So is the £150m to help communities take over pubs, theatres and other local institutions in their areas which have a unifying social effect and should be saved. So is the £700m to help cultural institutions as they re- open.
So the Budget had some good, small things in it. Let's be fair.
The problem is, that the direction of travel that this Chancellor has chosen for his shiny new vehicle, is wrong. He has decided that for all the talk of community, localism, and the social networks that sustain us, it is instead the old corporate world which Rishi Sunak is driving us towards. The excellent TaxWatch group pointed out that the Chancellor created a £12bn tax 'super deduction' on purchase of capital goods by firms. Clearly the bigger the firm, the bigger the purchases, the bigger the super deduction. Which brings us to Amazon.
Taxwatch points out that in 2019 Amazon's UK turnover was almost £3bn. But it's tax bill was around £6 million (0.2% of turnover) – don't ask, no one seems to have the slightest idea how this could come about – and the capital expenditure was £162,000,000. Now, under the Chancellor's plan for 130 percent tax super deduction Amazon would be free to pay no tax at all. Bingo!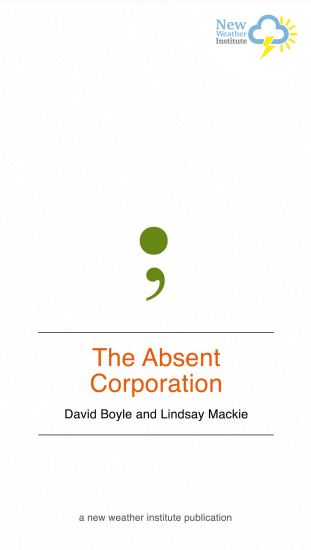 And, in general, what is this great corporation doing with its new found pandemic wealth? Why, it is just about to make post pandemic High St shopping more soulless, create relatively fewer jobs and be much more data driven. Amazon Fresh, the stores with no tills and hence fewer workers and less normal human interaction, will open in around 20 places in the South of England in 2022.
A couple of years ago we at New Weather wrote a pamphlet on how the modern, gigantic, global corporation had abandoned any concept of customer care – we called the phenomenon the 'absent corporation'. The customers' place in the hierarchy of business had plummeted as corporations became so big that their purpose was either to eat or be eaten by other mega corporations. Customers were just one factor on the balance sheet. For Amazon this is not wholly true – as without customers to deliver to physically, they would have no business, and crucially, there is still plenty of opposition out there to the unlovely conglomerate. This opposition is called shops.
And, in case we needed reminding, it turns out that even chain stores provide us with the social experiences, the small pleasures, the ease of choosing, the discovery of other ways of eating, dressing, making, cooking, drinking, that form part of the knobbly texture of daily life. And we know that they provide jobs. 2.9 million of them. Two thirds of these jobs are in the 75 largest retail companies.
But in the long death march that is the corporate future, Amazon is careless of the jobs retail offers (many to the young). Less jobs means more profit. How ashamed would a moderately human executive be to work to that mantra? Not at Amazon. This corporation will finally, if we let it, create a desert for us and call it profit, nothing more or less.
Photo by Joe Stubbs on Unsplash