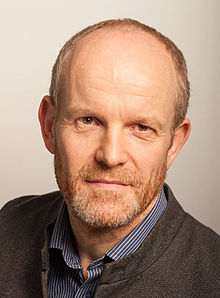 Andrew Simms is an author, analyst and campaigner.
His several books include The New Economics, Ecological Debt: Global Warming & the Wealth of Nations, Tescopoly: How One Shop Came Out on Top and Why it Matters, Do Good Lives Have to Cost the Earth? and most recently Cancel the Apocalypse: The New Path to prosperity.
Andrew contributes to the Guardian and BBC, and co-founded the New Weather Institute. He is a research associate at the Centre for Global Political Economy, University of Sussex, a Fellow of nef (the New Economics Foundation) where he was also Policy Director for ten years and established its Climate Change, Energy and Interdependence Programme. He is also the assistant director of Scientists for Global Responsibility. He co-founded the Green New Deal group, the climate campaign onehundredmonths.org and devised Earth Overshoot Day.
A political economist and environmentalist, Andrew studied at the London School of Economics and has written widely on the political economy of both global and local economies, and sat on the board of the Transition Network. He coined the phenomenon of 'Clone Town Britain' and led nef's work on the 'Great Transition'. New Scientist magazine called him a 'master at joined up progressive thinking.'
Links
Books
Cancel the Apocalypse: The New Path to Prosperity (2013) Little Brown, London.
'A cornucopia of alternative policy options to defy inertia and despair… not just the starry-eyed proposals of a policy wonk but…schemes which have been successfully tried and tested.' Financial Times
Eminent Corporations: The Rise and Fall of the Great British Corporation (2010) with David Boyle, Constable, London.
'A new business history that impresses.' Financial Times
The New Economics: A Bigger Picture (2009) with David Boyle, Earthscan, London.
'A Joy to see… The New Economics builds on the strong British moral and intellectual tradition of Ruskin, Belloc, Chesterton and Schumacher.' Prof. Herman Daly
Do Good Lives Have to Cost the Earth? (2008) Andrew Simms with Joe Smith, Constable & Robinson, London
Tescopoly: How One Shop Came Out on Top and Why it Matters (2007) Constable, London
'Simms's work succeeds as activism as well as analysis' The Times
Ecological Debt: Global Warming and the Wealth of Nations (2005) (Second Edition: 2009) Pluto, London
'Essential reading' Chair of the Intergovernmental Panel on Climate Change
Selected reports*
Climate & Rapid Behaviour Change: What do we know so far? 2018 (Rapid Transition Alliance)
Rigged: How the UK oil and gas industry is undermining future generations, 2018 (Intergenerational Foundation & New Weather Institute)
How did we do that? The possibility of rapid transition, 2017 (STEPS Centre, Sussex University & New Weather Institute)
Toxic Time Capsule: Why nuclear energy is an intergenerational issue, 2016 (Intergenerational Foundation & New Weather Institute)
The New Materialism: How our relationship with the material world can change for the better, 2012 (Schumacher College, The Real Press, Bread, Print & Roses)
National Gardening Leave: Why Britain would be better off if we all spent less time at the office, 2012 (nef)
The Ratio: Common sense controls for executive pay and revitalising UK business, 2011 (nef)
The New Home Front: Showing leadership: How we can learn from Britain's war time past in an age of dangerous climate change and energy insecurity, 2010 (The Green Party)
21 hours: Why a shorter working week can help us all to flourish in the 21st century, 2010 (nef)
Where did our money go? Building a banking system fit for purpose, 2010 (nef)
Growth isn't possible: the need for a new economic direction, 2010 (nef)
The Great Transition: a tale of how it turned out right, 2009 (nef)
The Green New Deal: Joined-up policies to solve the triple crunch of the credit crisis, climate change and high oil prices, The First Publication of the Green New Deal Group, 2008 (nef)
From the Ashes of the Crash: 20 first steps from new economics to rebuild a better economy, 2008 (nef)
Nine Meals from Anarchy: Oil dependence, climate change and the transition to resilience, 2008 (nef, Schumacher North)
Up in Smoke: threats from and responses to the impact of global warming on human development, 2004 (nef/IIED)
Clone Town Britain: the loss of local identity on the nation's high streets, 2007 (nef)
Growth isn't working: the unbalanced distribution of benefits and costs from economic growth, 2006 (nef)
The Happy Planet Index: an index of human well-being and environmental impact, 2006 (nef/FoE);
The UK Interdependence Report: how the world sustains the nation's lifestyles and the price it pays, 2006 (nef/OU)
The Price of Power: poverty, climate change, the coming energy crisis and the renewable revolution, 2004 (nef)
Free riding on the climate: The possibility of legal, economic and trade restrictive measures to tackle inaction on global warming, 2003 (nef)
Environmental Refugees: the case for recognition, 2003 (nef)
Ghost Town Britain: the threat to local economic livelihoods, 2002 (nef)
The End of Development? the threat from climate change to human development, 2002 (nef/BCAS)
The Five Brothers – the rise and nemesis of the big bean counters, 2002 (nef)
An Environmental War Economy – the lessons of ecological debt and climate change, 2001 (nef)
World Disasters Report, chapter author: 2000, 2001, 2002, (IFRC)
Who Owes Who? Climate change, debt, equity and survival, 1999 (Christian Aid)
Selling Suicide: farming, false promises and genetic engineering in developing countries, 1999 (Christian Aid)
The New Abolitionists, 1997 (Christian Aid & the Jubilee Debt Campaign Coalition)
(* most multiple authors)
Book chapters
Reimagining Britain – a new approach to environmental issues
(in The Alternative – towards a new progressive politics, Biteback, 2016)
What if money grew on trees? Asking the big questions about economics
(multiple entries, Ivy Press, 2013)
National Gardening Leave
(in Time on our side: why we need a shorter working week, nef, 2013)
The power and promise of 2012 – Turning Super Saturdays into Happy Mondays
(in London 2012: how was it for us? Lawrence & Wishart, 2013)
On the magic bullet
(With Victoria Johnson in: Atlas: geography, architecture and change in an interdependent world, Black Dog publishing, 2012)
A Green New Deal – poverty reduction and economic stability in a carbon constrained world
(in Climate change and energy insecurity – the challenge for peace, security and development, Earthscan, 2009)
Growth is failing the poor: the unbalanced distribution of the benefits and costs of global economic growth
(with David Woodward in: Flat world, big gaps – economic liberalisation, globalisation, poverty & inequality, United Nations & Zed Books, 2007)
Ecological debt – the economic possibilities for our grandchildren
(in Sovereign debt at the crossroads – challenges and proposals for resolving the third world debt crisis, Oxford University Press, 2006)
The economic problem of sustainable governance
(in Governance for Sustainable Development – A foundation for the future, Earthscan 2005)
Real World Environmental Outlook
(in Real world economic outlook – the legacy of globalisation, debt and deflation, Palgrave MacMillan, 2003)
Trade, investment and sustainable development
(in Earth Summit 2002 – A new deal, Earthscan, 2000)
If not then, when? Non-governmental organisations and the Earth Summit process
(in Environmental Politics, vol 2, no 1, Spring 1993)